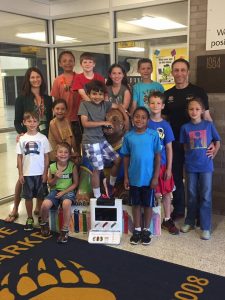 Huge congratulations to the winners of the EP Clarke spring mileage club competition. This is an awesome program that EP Clarke elementary school is running to help their students be more active in their lives.
Tri-ing For Life donated a Vivofit Jr. for the winners of each grade level hoping to really motivate the children to not just get active, but shoot for a huge goal so they could win something awesome. Last Friday I was amazed by the results from these amazing children and some of the stories I heard from their parents.
Some program stats:
– Students completed 4,149 miles, they could have walked to Brazil
– 2,390 of those miles were in the 7 wk season 2 which was 2 weeks shorter than season one, that's more than half in less weeks.
– 349 students participated
– EP Clarke ranked in the top 13% of more than 8,000 schools nation wide which participated
Those are amazing results, huge shout out Tiffany Woods and all the volunteers who have made this program possible.
One parent told me how much more energy his daughter had while participating. His daughter completed 30 miles in season 2 compared to 5 miles in season 1. She came home one day and told her dad she wanted to win a Vivofit Jr. and she made it. These are the stories that make me do what I do.