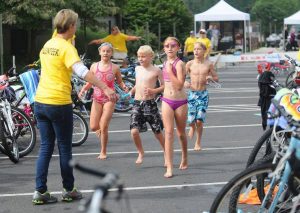 Have you been wanting to tri out triathlon, or maybe you have a youth or junior who is interested in Triathlon? Come and check out this event tomorrow at Jean Klock. You can participate, volunteer, or spectate…so many choices.
Meet the Tri-ing For Life at the YMCA Youth and Junior Team and Join in with our Adults in the Couch 2 Tri program as they get ready for their first race coming in July.
Distances:
Youth (Under 12) – 50m Swim / 2 Mile Bike / 1 Mile Run
Junior (12+) / Adults – 200m Swim / 4 Mile Bike / 2 Mile Run
This is a DIY Tri all distances are approximate and may be a little over or under.
Transition Clinic at 6:30 pm
DIY Tri at 7 PM