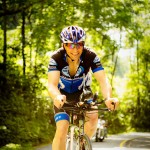 Thom Figueroa
Coach
Coach Thom is a USA Triathlon Certified Coach practicing across all 3 disciplines both individually and holistically.  In his practice Coach Thom approaches each client as an individual to assess the athlete's goals and the gaps that are limiting the desired progress, then quickly identifies what training prescriptions are needed to help bridge the identified gaps.  Coach Thom's philosophy is to get the greatest development possible on the typical amateur athlete's very limited time resource.
Coach Thom has been trained and mentored through USA Triathlon and Triathlon Research top coaches in each of the 3 disciplines of triathlon as well as the fourth and fifth disciplines which are nutrition and mental toughness.  Through nutritional coaching Coach Thom is able to help an athlete perform at their best with minimal GI disturbance through traditional carbohydrate fueling or metabolic efficiency fueling which maximizes an athlete's use of fat as a fuel source.  Coach Thom has a keen sense of what an athlete needs to go to the next level and is very relatable by athletes who are fresh off of the couch all the way to the Elite and Professional ranks.
Coach Thom has trained hundreds of endurance athletes through program training such as Couch 2 5k and Couch 2 Triathlon; and is able to create a very individualized training approach within large group environments by using Rated Perceived Exertion (RPE) and Heart Rate (HR) training.  Through RPE and HR a plan that is designed for a large group moving towards the same end goal is able to be modified to fit the individual and best optimize their training journey.  In addition to group training environments Coach Thom has coached many individual athletes on their journey to completing their first Marathon, qualifying for Boston, completing their first 70.3 or Full Ironman Triathlon, and Elite and Professional level athletes.
Coach Thom not only coaches athletes through their various journeys within endurance sports; he has competed at various levels in running and triathlon.  Coach Thom has been invited to USA Age Group National Championships in 2014 and 2015 along with completing various 70.3 Ironman's and a Full Ironman.  Coach Thom has been there and done that which gives him the greatest ability one looks for in a Coach, the ability to understand the trials and tribulations we endurance athletes go through on our training and racing journeys.  Coach Thom brings this experience to you to ensure your training goes as planned and you are able to be the best you as you toe the line for that big race.