The Studio is how Tri-ing For Life began back in Nov 2014 when we only offered cycling to our clients, we have changed a lot from those early days.  Today we have offerings in Cycling, Yoga, and Strength Training.  At the core Tri-ing For Life's mission is to be a gateway to endurance sports to this awesome community of cyclists, triathletes, runners and swimmers which the studio provides a central meeting point and a place for us all to train year round.  Who doesn't like to train with close friends or make new friends who are all trying to get stronger, faster and healthier?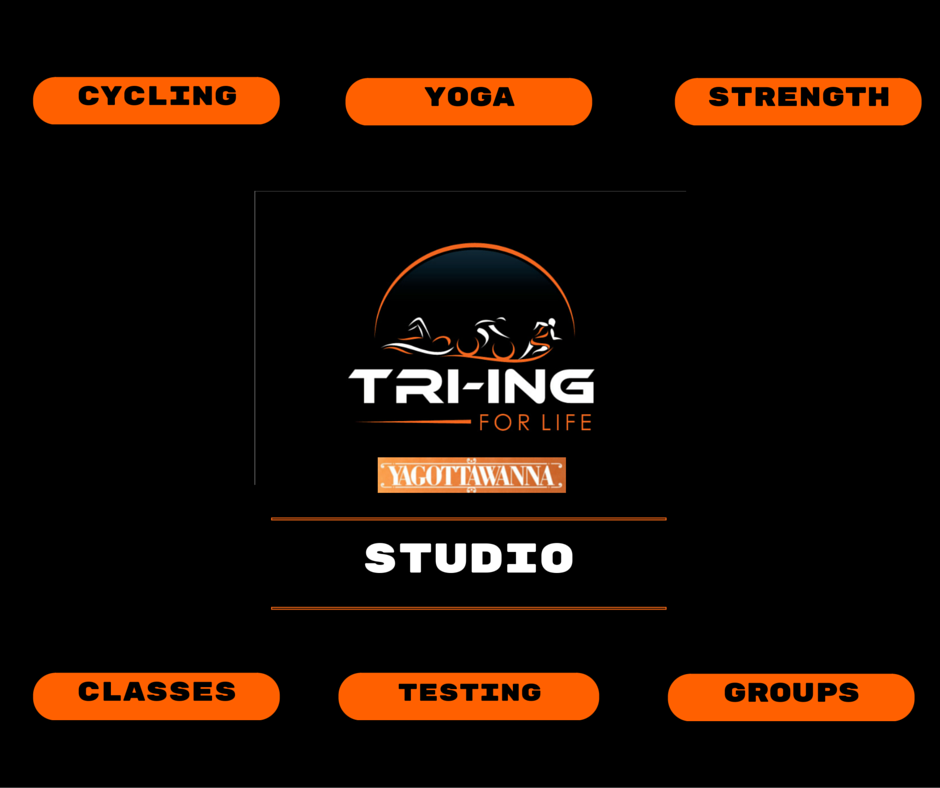 At Tri-ing For Life's studio we feature state of the art Wahoo Kickr's which allows us to program every ride to develop a certain aspect of your training or put you on any course in the world that we can get gps files for.  The true beauty of this system is that the ride is customized for your skill level using your personal Functional Threshold Power (FTP) number which adjusts the ride to your level of fitness. With our set-up a brand new cyclist can ride right next to their best friend who's been riding for years and not be dropped.
Over the past year and a half one of the things we identified was a need for yoga and strength training that was very specific for the endurance athlete or for the complete off the couch athlete who have different requirements than the typical gym member.  With this vision Danielle developed a yoga program which uses a mix of yoga methods during the practice to ensure the best core development and recovery for our athletes.  For those of you who think yoga isn't for you we have actually thought about naming it stretching and recovery for athletes because the practice really is a very intensive stretching and recovery class focused on your hips, hamstrings, gluts, quads and other muscles that we all neglect so much, you really should give this class a chance and see how much it can impact your performance on the bike, running or swimming.
Looking for a Strength workout designed just for endurance athletes?  Dennis has created an amazing body weight only workout that will leave no doubt in your mind that you're getting stronger through the core.  Why do we focus on the core so much?  A weak core is the leading cause of injury for cyclists, runners and swimmers alike.  We are here to develop your functional strength so you can keep moving forward towards your goal attainment.
Many things have changed at the Studio over the past year and a half and many more are coming, we look forward to training with you and helping you reach  your success.  For more information on classes like how to register, etc check out our registration website.
The first class is free for all new members and we are running a special introductory of $25 for unlimited classes for TWO weeks, come on in and see how Tri-ing For Life can help you.  Join any of our classes, schedule an appointment for testing, or contact us and we can design a program or session for your group's specific needs.