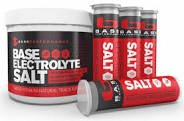 NUTRITION CORNER 
by Coach Thom Figueroa
Tri-ing For Life just added in Base Salts to our arsenal to fight electrolyte replenishment and cramping.  The addition of Base Salts gives the options of using UCAN Hydrate or Base Salts for your hydration needs and gives more flexibility on the bike and the run than powders that go into your water bottle.
Base Salts help replenish your electrolytes without sitting in your stomach waiting to be digested as tehy absorb through your mouth for a faster delivery just as you need them during your training and race performances. Check this video out to learn more.
Stop in and have a chat about Base Salts and how to incorporate them into your training and race day plans.