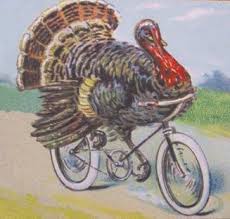 Thanksgiving is almost here and we will have so many temptations in front of us, temptations to eat so much delicious food and skip workouts as we travel and spend more time celebrating.  Take this time to recognize the distractions and try to minimize the impact to your nutritional and training values by setting yourself up to succeed.
Before you travel make sure you plan ahead strategies to minimize the amount of food you eat, one good strategy is to plan to eat small amounts of all the great foods you love.  Keep the amounts limited on your plate and enjoy a small amount of more.  For the workout pre-plan the workouts, look to find friends and family who will join you for workouts, even if those workouts are just long post meal walks catching up.
Most of us will fail during the holidays, don't let this cause you to give up.  Recognize the situation, slow down and minimize the impact, and then accelerate back on the plan after you get over the speed bump. Most of all enjoy the time you get with all those you love around you.
If you would like to discuss strategies or you would like to schedule a breakthrough session to see how Tri-ing For Life can help you bridge the gap to success in your 2016 training objectives send an email to me at ThomFigueroa@Tri-ingForLife.com.