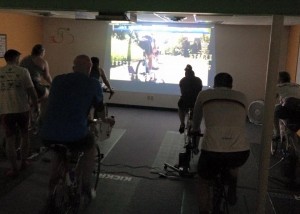 Testing Sessions ($30)
What's Your FTP? (First FTP Test Free for New Clients) – Don't know your Functional Threshold Power? Register for What's your FTP?, by appointment and we will take you through a test! Okay, now we've got a figure for our functional threshold what do we do with it? Functional threshold development is all about making our athletic engine more efficient. We will help you do that! We encourage you to schedule your appointment.
1 Hour Classes (Drop-in / 5 One Hr Class Pass / 10 One Hr Class Pass)
Fly 60 – If you're training for a hilly course in a not-so-hilly environment, don't worry—you can still tap your inner mountain goat! Fly 60 will train you to fly up those hills!
Go The XTRA Mile – Created for all those who want to increase their Functional Threshold Power! Riders will be encouraged to work their maximum energy output (everyone rides their miles at their own challenging fitness levels) throughout the class. Come prepared to sweat!
H.I.I.T Cycle – This 60 minute class explores the multiple benefits of H.I.I.T. (High Intensity Interval Training). The interval is all about the effort exerted and work done and the rest is all about recovery – each are equally as important. H.I.I.T. Cycle is a great way to achieve great health & fitness benefits in a shorter period of time, build confidence from getting through a challenging workout, and become a more efficient/stronger/leaner athlete! It's about how much YOU want to do. (with a little push of course)!
Long Ride Segment – Come join your friends and other riders for a long ride. EC Cycling Studio will set up a multi-hour course and you select how many hours you want to ride by registering for each hour. We'll stop 5-10 minutes before the next hour and pick up any new riders or drop off those who are done.
Time Trial 60 – Buckle your chin strap and get ready for some friendly competition! This 60-minute ride will display your heart rate, kilowatts and calories on a 112" screen. Great for all levels, spice up your fitness and join the fun. Feeling a little shy? No worries, competition is always optional.